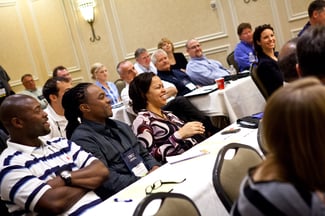 As busy safety professionals, it's important that we find the time to stay on top of the latest innovations and regulations that are critical to protecting employees and improving safety records.
Returning for the seventh straight year, the Louisiana Governor's Safety & Health Conference (LGSHC) offers reliable, local resources and updates to accelerate your safety skills.
Last year, conference attendees explored various topics that enable a safe workplace while satisfying some of their continuing education requirements and earning continuing education units. Topics included complacency, hazard management and recognition, JSAs, basic ergonomic principles, wellness, communication strategies, bullying, violence, quantifying risks, nanomaterials in construction, recordkeeping, hearing conservation, leadership, IH monitoring, drugs in the workplace, air quality safety and the economic boom in Louisiana.
Sessions were geared toward those who have been in the health and safety field for years, as well as those who are just beginning their careers. Regardless of experience levels, attendees left each session with a sample plan or specific knowledge that applied directly to their jobs.
Speakers at LA Governor's Safety & Health Conference
High-caliber national speakers are a regular conference feature. Last year's keynote speaker John Grubbs spoke about "Leading the Lazy," providing facts and advice for organizations regarding the cultural change of the workforce. Grubbs has over 20 years of leadership experience including hands-on management experience, executive coaching, training and consulting.
Commander Kelly Sullivan, president and CEO of Control Zone Solutions, shared various personal aviation stories to support the Stop Work principle. Over the past 25 years, he has leveraged his knowledge of the unique needs and demands of the oil and gas industry, along with his 21 years of military experience, into a successful career as an oil and gas industry consultant. He has provided consulting services for ExxonMobil, Shell, BP, Hess, Transocean and Diamond Offshore.
OSHA Update at LA Governor's Safety & Health Conference
The always popular OSHA update was given by OSHA Area Director Dorinda Folse. The annual update provides essential, timely information to help organizations avoid costly citations and incidents that take an even more costly human toll.
In addition to the rich content, networking opportunities with the top minds in industry have participants coming back year after year. Industry experts share insights and best practices on the most significant health and safety issues facing the industry. Surveys confirm that attendees recommend the conference to other HS&E professionals and bring others from their organizations. They find the interactive presentations engaging and the discussions with industry experts immediately applicable.
Join us Sept. 28-29 for another fun and informative event. For more information and to register, visit www.thesafetyexpo.com.