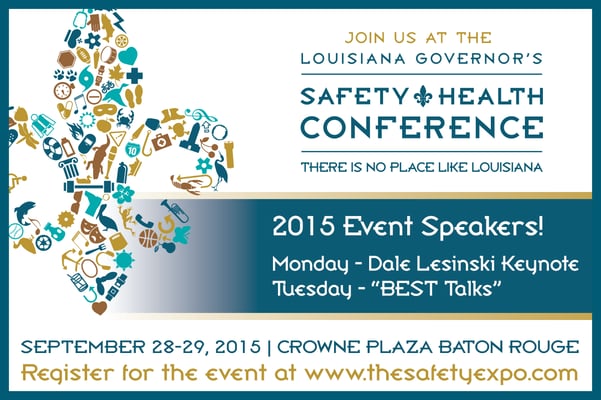 The seventh annual Louisiana Governor's Safety & Health Conference kicks off Monday, Sept. 28 with a presentation from keynote speaker Dale Lesinski. Lesinski is vice president of sales and training for DiVal Safety Equipment in Buffalo, New York.
Throughout his 25 years of safety sales experience, he has toured over 500 manufacturing plants and jobsites that include virtually every aspect of industry, construction, municipality and utility. Lesinski's "Safe 4 the Right Reasons" presentation demonstrates why we do some of the things we do and how we can deliver the greatest results by using our natural tendencies to stay safe on and off the job.
"BEST Talks" New to Conference this Year
Tuesday's "BEST Talks" will provide best practices and pertinent insight regarding business, economy, safety and technology. The panel features industry experts Dan Borne', Kathy Trahan and Dr. David Barczyk.
Dan Borne' is president of the Louisiana Chemical Association, which represents the interests of 66 chemical manufacturing companies that operate at over 90 locations in the state. He is also president of the Louisiana Chemical Industry Alliance, a partnership of Louisiana's chemical plants, their suppliers, contractors and vendors.
Kathy Trahan, CAE, president and CEO of Alliance Safety Council, has spent the past 23 years playing a part in developing industrial programs with a consortium of industry and educators across the Gulf region while working at the PPG (now Axiall) plant in Lake Charles, McNeese State University and BRCC. She works to ensure Alliance Safety Council's 1,400-plus members enjoy time-saving processes and best available safety training and technology solutions. Trahan's presentation will focus on how the region can utilize relevant training and technology to fill available jobs in viable industries.
Dr. David Barczyk is a wellness expert and author of the book "Wellness Wake-up Call." He believes wellness wake-up calls come in a variety of forms. Whatever the catalyst, one fact is clear: A person who makes a major lifestyle change toward health is usually able to pinpoint the moment when he or she experienced a wellness wake-up call. Dr. Barczyk will discuss integrating safety with wellness and why it is critical for everyone to take ownership of their own health.
Network with the Top Minds in Industry
These conference speakers, as well as the various breakout sessions with key industry experts, offer attendees tremendous networking opportunities. The ability to discuss hot topics with the top minds in industry, make lasting connections and build mutually beneficial relationships keeps attendees coming back year after year.
Join us Sept. 28-29 for another fun and informative event. For more information and to register, visit www.thesafetyexpo.com.